In chemistry, a diprotic acid is an acid that can donate two hydrogen atoms (H), or protons, per each molecule of the acid to a solution that is in an aqueous state, or in water. One of the most common examples of a diprotic acid is sulfuric acid, which has the chemical formula of H2SO4. Sulfuric acid can lose one hydrogen atom to form hydrogen sulfate (HSO4), or lose both hydrogen atoms to form a sulfate (SO4).
The term "diprotic" refers to the fact that the acid can release two hydrogen atoms or form two protons. "Di-" refers to the fact that two atoms can be released, and "protic" is used because the atoms that are released are protons. In some cases, dibasic is used to also describe these types of molecules as two bases are formed through the release of the hydrogen atoms. For example, hydrogen sulfate and sulfate are both bases, so two bases can be formed through the loss of one or two hydrogen atoms from sulfuric acid.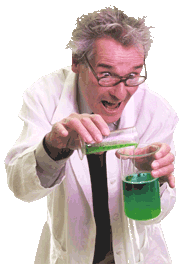 Diprotic acids are ionizable, or dissociate in the presence of water. The loss of the two hydrogen atoms from the diprotic acid does not take place at the same time. Each dissociation is a separate reaction due to the fact that the strength of the acid is different based on the number of hydrogen atoms attached to the molecule. The Ka value, or the acidity constant, gives the strength of an acid found in solution. With diprotic acids, the Ka value is different for each dissociation.
The titration curves of diprotic acids have a very distinct shape that clearly shows two different equivalence points. The equivalence points shown on a titration curve give the Ka value at each dissociation as the diprotic acid loses the first and then the second hydrogen atom to the water molecules. Depending on the diprotic acid being tested, the second dissociation may not occur completely meaning that some of the acid molecules will still contain one hydrogen atom.
There are both organic and inorganic, or biological and mineral, examples of diprotic acids that occur both naturally and as manmade substances. Sulfuric acid is an example of an inorganic acid, while the sour or taste of some fruits, such as apples, grapes and cherries, is due to malic acid, which is an organic diprotic acid. This acid occurs in most unripe fruit, but breaks down as the fruit ripens, so the fruit becomes less tart as it ages.
AS FEATURED ON:
AS FEATURED ON:

Scientist with beakers