Alpaca silver is a common name for a metal alloy, a combination of metals, of copper, nickel and occasionally other metals such as zinc, tin, lead or cadmium. The alloy also can be called nickel silver, German silver, new silver and paktong. It is used in a variety of manufactured commercial products, as well as in technical industries.
Alpaca silver was first used in China as a substitute for sterling silver. It made its way into Europe through traded goods, where it was marketed under the name of paktong or white copper. In the 18th century, several German companies adopted the use of a similar alloy, and in 1823 a competition was held to discover which alloy was the best silver imitation. Berndorf, a German manufacturer, sold their nickel silver products under the name Alpaca silver, and the term became commonly used throughout Europe. In 1840, a process called electroplating was developed, allowing a fine metal coating to be plated onto metal and non-metal object, which opened many new markets for nickel silver-plated goods.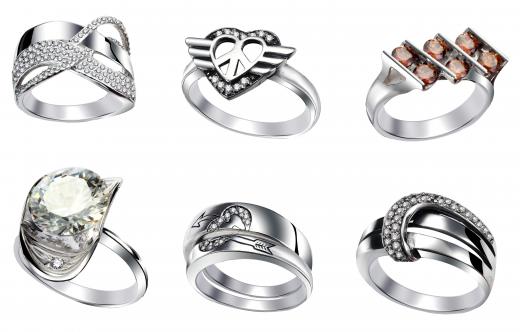 For many years, this silver was a component in several European coins, including the Portuguese escudo and the German mark. With the shift in currency to the Euro, these coins are now effectively out of circulation. A form of the alloy is also used in the U.S. nickel, although the composition of 75% copper and 25% nickel is called copper-nickel in America.
In some forms of composition, Alpaca silver is found in industrial and technical machinery. The alloy can be found in various components for boats, and is useful in plumbing, due to its corrosion-resistant composition. It is also used in heating coils, as the metal combination is highly resistant to electricity.
In commercial products, this silver is frequently found in musical instruments. A nickel silver saxophone is considered to have an exceptionally powerful sound, and many popular manufacturers carry at least one model. Because nickel silver needs no lacquering, it is the most common material used for the keys on woodwinds. Oboes, clarinets and bassoons are all likely to have silver components.
Because of its visual similarity to sterling silver, Alpaca silver is frequently used in jewelery as a less expensive alternative to true silver. Its stainless finish makes the jewelery easy to clean, requiring only lemon juice or a mild soap to remove any marks or tarnishing. Alpaca silver is popular with South American jewelry companies and is used to create beautiful, traditional and modern pieces.
AS FEATURED ON:
AS FEATURED ON:

By: Rozaliya

Alpaca silver rings.

By: bepsphoto

Woodwinds like clarinets frequently have keys made of Alpaca silver.

By: pattarasiri virayasi

Alpaca silver is less expensive than true silver.