Aniline dye is a substance used to color fabric, leather, and wood. Like many technological breakthroughs, its discovery was accidental. These dyes are considered synthetic organic compounds, a carbon-based chemical that is altered by another substance, or synthesized. They come in a variety of colors, and are known for their clarity.
Mauvine, the first aniline dye, was discovered by 18-year-old William Henry Perkin. He was trying to create a synthetic version of the anti-malaria drug quinine on a challenge given by his professor in 1856. Perkin oxidized the chemical aniline, a coal-tar byproduct, with the chemical potassium dichromate. This reaction caused a thick black substance to form in Perkin's flask, which is a common symptom of a failed experiment in organic chemistry. Later, when Perkin was cleaning his flask, he found that the substance dissolved in alcohol to form a purple liquid, which was later found to take to textiles extremely well.
Aniline dyes come in a variety of colors, ranging from soft hues to bright primary colors. They are used in a variety of fields, but are most commonly found in the leather and woodworking industries. Aniline wood dyes are often hailed as having an advantage over wood stains for their clarity and saturation. They do not leave pigmentation on the surface of the wood, and purportedly leave the finished product less "muddy" in appearance. Not only does aniline wood stain leave no pigmentation behind, but it penetrates all parts of the wood equally, unlike stains that absorb more color into parts of the surface that are more porous.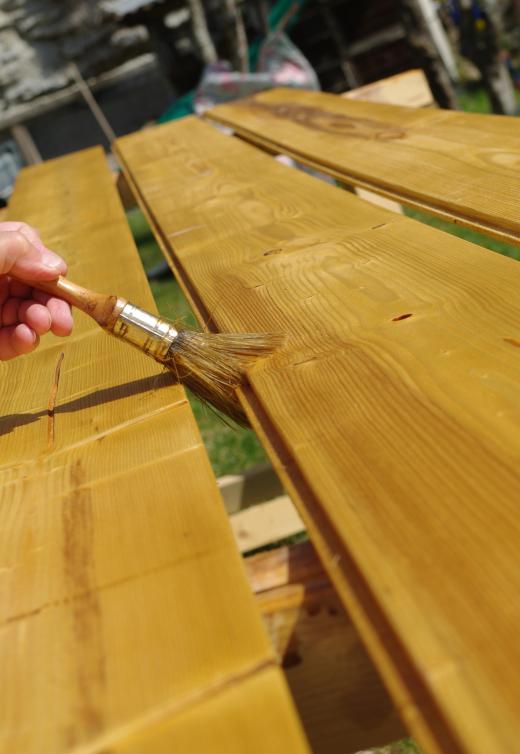 Similarly, leather dyed with these substances does not lose any structure or grain pattern, and is often considered to be of a higher quality than other types of dyed leather. There are several different processes in which leather can be colored, each with its own advantages and disadvantages. Dyed hides may vary widely in quality. Many people dye their own hides using commercially available dye solutions, which are readily available in most leather supply stores or craft shops.
Commercially available aniline dyes are available in the form of powders that can be dissolved in either water, alcohol or oil. Each type has its own safety precautions, mixing procedures, and application processes, and users should always follow the manufacturer's instructions when using these dyes for any projects. Some forms are considered toxic, and proper safety precautions should be observed when using them.
AS FEATURED ON:
AS FEATURED ON:

By: rybachka

Aniline dyes are often used on leathers, such as alligator skin, because it does not damage grain or texture.

By: minicel73

Aniline dyes generally give wood a less "cloudy" appearance than stains.

By: kobolia

Aniline dye can be used to color leather.

By: Deviant Ft

Aniline dyes are considered clearer and more saturated than stains.