What is Genetic Diversity?
Genetic diversity is the variation of heritable characteristics present in a population of the same species. It serves an important role in evolution by allowing a species to adapt to a new environment and to fight off parasites. It is applicable to domesticated species, which typically have low levels of diversity. Studying genetic diversity in humans can help researchers form theories on human origins.
Living things contain in their cells the basic instructions, or blueprints, for their own development. Many of these instructions, which are called genes, result in physical characteristics that affect the way organisms interact with their environment. Variations in such characteristics within the same species give rise to genetic diversity. For a species to adapt to an ever-changing ecosystem, a significant level of variation must be present. Those individuals that possess favorable characteristics will go on to reproduce, while those that don't do not tend to pass on their characteristics to many offspring.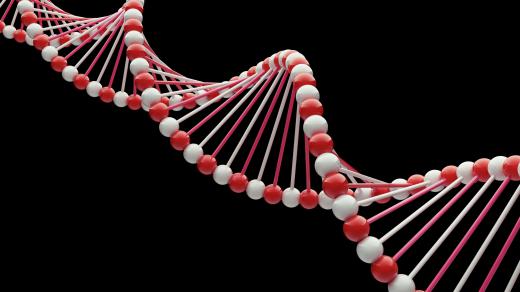 Domesticated species often have low levels of genetic diversity. This is caused by the artificial selection, or preferential breeding, of crops and animals for traits that humans find preferable. While this can have positive short-term results, such as a richer harvest, low diversity among domesticated species poses risks. A newly-evolved virus or bacteria strand can invade a population of nearly identical organisms very rapidly. The protection that diversity generally offers in wild populations is lost in this scenario.
The Irish Potato Famine between 1845 and 1852 was caused by a parasite invading a large population of nearly identical potatoes. The parasite was a water mold named Phytophthora infestans. This famine caused Ireland's population, which was widely dependent on potatoes for food, to decrease by 20 to 25 percent.
Human genetic diversity typically varies based on the geographic location of a population. This has led biologists and anthropologists to study these diversity levels in the quest to understand human origins. Genetic diversity levels in Africa, for example, have been found to be higher than in many of areas of the world. Researchers have developed models of human origins from this evidence. The recent Out-of-Africa model, which suggests modern humans have a common origin in Africa, is one such example.
Biodiversity refers to the level of variation of all living things within an ecosystem. The importance of biodiversity to an ecosystem is analogous to the importance of genetic diversity to a population. Both forms of diversity contribute to the health and robustness of the larger system. When these levels of diversity fall, both systems are less able to adapt to a changing environment.
AS FEATURED ON:
AS FEATURED ON:

By: eabff

Genetic diversity in a species allows it to adapt to changing environments.

By: luchschen_shutter

Studying genetic diversity in humans can help researchers form theories on human origins.

By: JohanSwanepoel

While captive breeding programs may be used to preserve the species, such programs carry risks, including loss of genetic diversity.

By: spotmatikphoto

Human genetic diversity can vary based on geographic location.

By: ryflip

Genetic diversity is reflected in racial backgrounds.