Any structure that uses trusses in its design can be called a truss structure. Trusses are triangular or pyramidal shapes that are used in the structure of buildings in order to make them more stable than structural components with 90 degree angles could. Bridges, platforms, towers, and houses are common types of truss structures.
Structures frequently make use of trusses because of the additional support and strength that they provide. Triangular shapes are particularly stable because the length of the sides of the legs and the measure of the angles must correlate, making it difficult for triangles to lose their shape. Trusses are able to resist the force of a great deal of weight compared to rectangular structures made from the same materials because a downward force applied to the corner of a triangle can be easily diffused throughout the shape. These features of triangles make the truss structure common in engineering and architecture.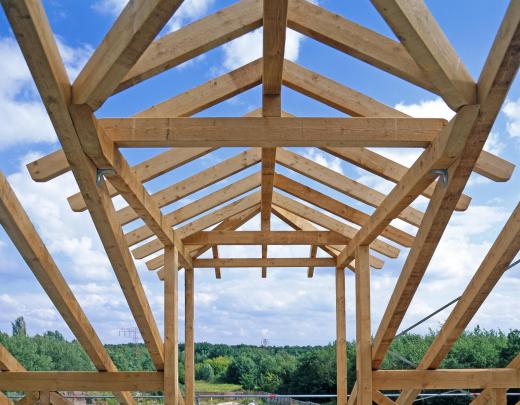 A bridge is a common type of truss structure. Many bridges utilize a series of simple trusses as a part of their design, either along the sides, the bottom, or on towers to hold the bridge up at strategic intervals. Stand-alone truss towers are also common. In this type of truss structure, a series of two or three dimensional trusses is used to give the tower more stability and make it less prone to bending as it reaches greater heights. Electrical towers, bridge supports, or scaffolding can all be constructed as truss towers.
In houses, trusses are commonly used in the construction of the roof and the floor. In roofing, the truss may be used to frame the roof, while in flooring, a truss can be used to create a platform. Many large, open platforms can also be constructed with the use of trusses. Two or three dimensional trusses can be used to keep the structure stable as it moves towards the middle, away from the support posts that hold it up. While large platforms may still need extra supports, using a truss frame allows them to be made larger with fewer vertical supports.
One specialized type of truss structure is known as the integrated truss structure. This system of trusses is made up of many pieces that have been assembled to form the International Space Station (ISS). On the space station, there are specialized trusses that hold solar arrays, power systems, and cargo bays.
AS FEATURED ON:
AS FEATURED ON:

By: Omika

A roof truss provides support for a roof.

By: Global Panorama

A system of trusses makes up the International Space Station.

By: Greg Pickens

Roof trusses are generally made from two by four stock.