What are Some Different Types of Tectonic Plate Boundaries?
Tectonic plates are large, disconnected chunks of the Earth's crust, floating on the mantle below, composed of soft magma. Tectonic plates vary greatly in thickness depending on whether they are oceanic (about 5 km or 3 mi) or continental (about 50 km or 30 mi). Continental crust generally consists of lighter rocks, while oceanic crust consists of heavier rocks. This means that when an oceanic tectonic plate collides with a continental plate, it certain to slip under, or be subducted by, the continental plate.
There are three main types of tectonic plate boundaries, described in terms of the way that tectonic plates move relative to each other. These include transform boundaries, where plates grind parallel to each other, divergent boundaries, where plates are moving apart, and convergent boundaries, where plates press into and sometimes under each other. These plate boundaries result in faults, rift valleys, oceanic ridges, oceanic trenches, mountains, island arcs, subduction zones, volcanoes, and other geologic phenomena.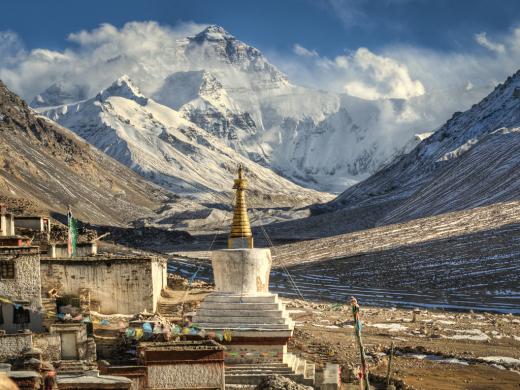 An example of a transform boundary between tectonic plates is the San Andreas Fault in California. Here, the Pacific Plate is moving northwest with respect to the North American Plate. Transform boundaries are often accompanied by earthquakes, caused when stress builds up between the plates and is released suddenly, in a matter of minutes or seconds. A primary quake may be followed by several aftershocks, smaller quakes which continue releasing crustal stress after the primary earthquake.
An example of a divergent boundary is the Mid-Atlantic Ridge, in the middle of the Atlantic Ocean. Here, the crust is splitting apart at a rate of about 5 cm (2 in) per year. It gets replaced by magma rising from beneath the crust and quickly solidifying, creating a series of ridges that gives the Mid-Atlantic Ridge its name. The island of Iceland is an example of a part of the ridge that sticks above the water.
An example of a convergent boundary is the Himalayas, which include the world's tallest mountain, Mt. Everest. Here, the Indian Plate is pushing northward into the Eurasian Plate, being subducted under it and causing it to lift. Because of this, the Himalayas are actually growing about an inch every year.
AS FEATURED ON:
AS FEATURED ON:

By: Göran (Kartläsarn)

Mount Everest is formed at a tectonic plate boundary.

By: Andrea Danti

Subduction zones are formed when one tectonic plate moves beneath another; this often creates volcanos and causes earthquakes.

By: ermess

Within a few days of an earthquake, the aftershocks could further damage structures already hit by the first quake.

By: kmiragaya

Tectonic plates float on magma.

Iceland contains tectonic plate boundaries.