A decibel meter is a device which measures sound pressure to determine how intense sounds are, measuring in decibels. Decibels are a logarithmic scale based on the sensitivity of the human ear. Prolonged exposure to sounds over 85 decibels can lead to hearing loss, making measurement of decibel levels important for people who work in noisy environments so that they know when they need to protect their ears.
For a frame of reference, normal conversation occurs between around 40 and 60 decibels, depending on who is talking. A firecracker is about 140 decibels, and a jackhammer runs at around 100 decibels. Musicians, mechanics, construction workers, and other people who work in loud environments can endanger their hearing, especially if they work in environments with explosives, which can generate sound waves intense enough to cause pain and immediate hearing damage. A decibel meter can indicate when sound has reached the danger zone.
The decibel meter measures the sound pressure and provides a reading in decibels for the convenience of the user. Some may also provide readings in other units of measurement, depending on the uses they are intended for. Decibel meters are often designed to be portable so that people can move them around as needed, and are often hand held, although sometimes they can be part of a permanent instrument array which is designed to take continuous measurements in a given area.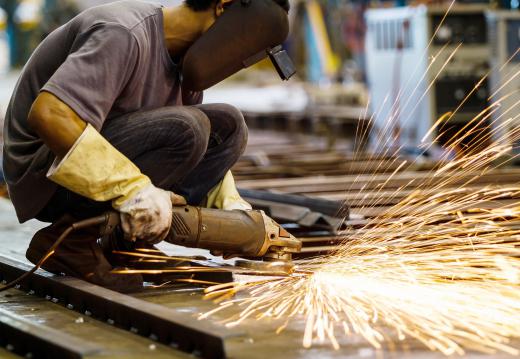 One application in which a decibel meter can be used is in the reinforcement of municipal codes. Many municipalities bar sounds above a certain decibel level for safety and comfort, and may have restrictions on noise during certain hours. Police officers can carry decibel meters to determine whether or not a sound is violating the noise ordinance. These devices are also used in noise pollution studies which are used to determine the impact of passing vehicles, aircraft, and other sound-generating objects on a community.
The decibel meter is also used in the music industry, during recording and setting up for concerns as well as monitoring of conditions in a concert. Similarly, meters may be installed in noisy workplaces to monitor conditions, and may be designed to send out alerts when people need to wear ear protection or take other precautions to protect their hearing. These devices are also utilized in testing of hearing protection such as ear plugs and headphones, with such products coming with a decibel ratings to provide an indicator as to which settings they can and should be used in.
AS FEATURED ON:
AS FEATURED ON:

By: Jeffrey Daly

Exploding firecrackers register about 140 decibels on a decibel meter.

By: bugphai

Decibel meters are often used to enforce noise ordinances in industrial areas.

By: Den

Decibel levels are based on the sensitivity of the human ear.

By: elavuk81

Decibel meters determine whether or not a sound is so loud it can be damaging to the ears.

By: autayeu

Ear plugs can help prevent trauma from loud noises.