What is a Microbiology Lab?
A microbiology laboratory, or lab, is the primary place that a working microbiologist not in the field can be found. It is in the lab that most of the testing, culturing, and research that they do occurs. This location contains the supplies and equipment needed for these activities, as well as provide an extremely clean, and sterile place to work.
In order to understand what occurs in a microbiology lab, what a microbiologist does should be understood. A microbiologist studies very small life forms, including bacteria, viruses, and fungi. These life forms live everywhere — in the soil, in the air, in the water, and even inside animals. Many of these life forms are so small that they can not be seen by the unaided eye, and are called microorganisms. Often, a microbiologist will have to separate and grow the microorganisms in order to better see, study, and experiment on them. All of these activities occur in the lab.
Most look like any other biology or chemistry lab. They will probably have long lab benches where scientists can easily set up their equipment and work. Large, partially clear fume hoods will be present in order to keep the scientists safe from any dangerous experiments, though the fume hoods in a microbiology lab may contain special ultraviolet (UV) lights that hinder and kill some microorganisms.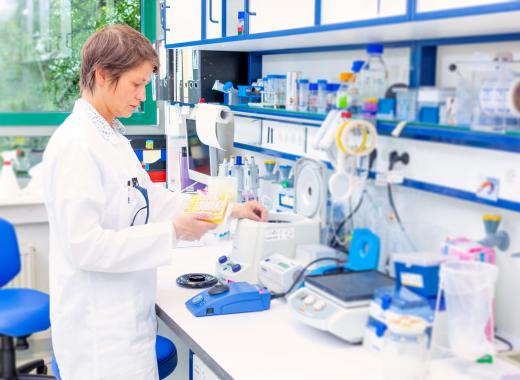 A large device called an autoclave that sterilizes equipment will be located somewhere in or near the lab so that the scientists can do their work without contaminating their samples. Common lab equipment like microscopes, test tubes, balances, Bunsen burners, desiccators, heating pads, pipettes, vortexes (vortices), books, and computers will also be there. Some labs will have special venting and seals on them to keep them clean. These labs may even require those entering them to wear special clean suits, though this type will not be encountered by most entry-level microbiologists.
Microbiology labs usually have specialized supplies and equipment in them beyond what is in traditional labs. It will often have multiple types of refrigerators, some of which store samples and others of which store nutrients and "clean" supplies. Large, sealed buckets called fermentors that are used to culture yeast might be present. Different types of nutrient gels called agar will be in the lab.
The gel will eventually be poured into sterile petri dishes in order to create agar plates upon which microorganisms can be grown. Large devices called incubators that warm their contents and may even gently stir them will probably be present. Specialized microbiology labs for the study of viruses, bacteria, fungi, and other areas will all have additional pieces of specialized equipment. This equipment can include cell counters, centrifuges, microplate readers, and scanning electron microscopes (SEMs).
AS FEATURED ON:
AS FEATURED ON:

By: perfectmatch

Common equipment found within a microbiology lab include beakers, microscopes, and computers.

By: luchshen

A microbiology lab often looks similar to a chemistry lab.

By: Massachusetts Dept. of Environmental Protection

A microbiology lab may contain fume hoods to protect scientists from hazardous experiments.

By: katrin_timoff

A microbiology lab may contain an autoclave for sterilizing equipment.

By: ggw

Bunsen burners may be found in a microbiology lab.

By: lightpoet

A microbiology lab may contain refrigerators for storing samples.

By: WavebreakMediaMicro

Much of the research performed by microbiologists occurs in the lab.

By: ggw

A microbiologist may use Petri dishes to study bacteria.