What Is a Synthesis Reaction?
Chemical reactions occur everywhere, in a variety of ways. One of the more formative types is the synthesis reaction, which brings together two or many more elements to create a different compound all together. The simple substances are called reactants, and the new, more complex compound is called the product. Water is perhaps the easiest example for better understanding synthesis reaction: H2O is the product of two atoms of hydrogen and one atom of oxygen. Properly notated, the water equation is H2 + O —> H2O.
The synthesis reaction has the distinction of being one of the easiest to visualize with the simplest equation to balance. The same can be said for the decomposition reaction, which acts in reverse to show what happens to complex compounds when they decompose to simpler elements. Two water molecules, to follow the above example, evaporate into the products of one of oxygen atom and one hydrogen atom, or 2H2O —> 2H2 + O2.
Heating or cooling is an element of many synthesis reactions, as is the case for many decomposition reactions. The addition to heating or cooling of products in a systhesis reaction is represented in an equation by the triangular Delta symbol above the yield, or arrow, sign. When both a synthesis and decomposition reaction can be illustrated in a single equation, one that works in both directions, it is often shown with a two-way yield arrow, like this, "<—>."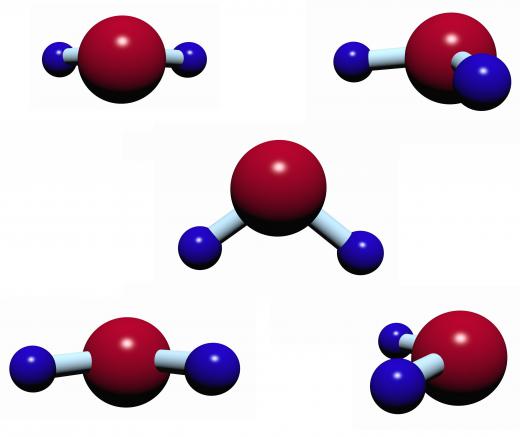 Chemical engineers, chemists, biologists and environmental scientists are just some of the professionals who must familiarize themselves with various compounds of the synthesis reaction. These types of marriages happen in all spheres of the natural world. When metals and oxygen come together to form different metallic oxides, for instance, or when sodium and chrolrine merge to form sodium chloride — the table salt in your food. The equation: 2Na + Cl2 —> 2NaCl.
Not all compound equations showing two or more reactants yielding a compound product is a synthesis reaction. A displacement reaction, for instace, happens when a compound is altered by an element to form a new compound altogether. The key is looking for whether all the reactants in the first half of the equation are indeed simple substances and not already considered a compound — such as water. An even more complicated compound arrangement is the exchange reaction, during which two or more compounds swap elements to form two or more completely different compounds.
AS FEATURED ON:
AS FEATURED ON:

By: Ruslan Kudrin

Sodium and chloride come together in a synthesis reaction to form sodium chloride, or table salt.

By: Ioana Davies (Drutu)

The synthesis reaction of water molecules is the easiest to visualize.

By: Mike

During a synthesis reaction, two or more elements are brought together to create a different compound.